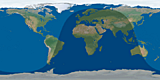 About these feeds: These images are from observatories around the world. Most of them are webcam images that are near-real-time, typically captured within the last 5 - 15 minutes. At this stage the only live video stream is from the Subaru telescope.
Some of these cameras show only night-time views, some only day-time, some show both. The quality and reliability vary a lot. Occasionally you'll see views that are either broken or haven't updated for a while. If any feed goes too long without updating, it gets moved into the inactive category until it comes back online.
Unfortunately I don't have any feeds directly from the telescopes themselves. The feeds I have are images of telescopes and the skies above them, but not of the telescope's captured image. If you know of any live telescope feeds I could access, please let me know.