The International Space Station is an orbital research facility jointly operated by five space agencies from around the world: NASA (USA), Roscosmos (Russia), ESA (Europe), JAXA (Japan), and CSA (Canada).
The station orbits at around 420 km (260 mi) above Earth, at an average speed of 28,000 km/hr (17,000 mph). Each orbit takes about 93 minutes, with a total of 15.5 orbits per day.
The main mission for the ISS is research. Obviously space-related research is a common focus but it's much more than that. Research projects include biology, medical and pharmaceutical, meteorology, physics and more.
There are normally seven crew aboard the ISS. Crewmembers typically stay there for about six months at a time, with three or four crewmembers rotating every few months.
The station has been home to non-professional space flyers, including tourists and actors. This may continue in future as spaceflight becomes easier and cheaper.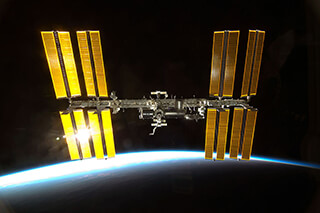 Related Feeds