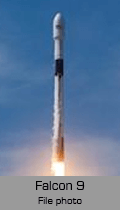 Scheduled Launch Time:
Jan 19 2:02 am UTC

This launch was a success.
Summary:
A SpaceX Falcon 9 rocket launched the Starlink-35 (4-6) mission on Wednesday, January 19, 2022 at 2:02 AM (UTC).
This mission deployed a batch of 49 satellites for SpaceX's Starlink constellation (space-based Internet communication system).
Watch the launch video(s) below.
Details & More Info
Mission / Payload:
Starlink-35 (4-6)
Tags / Other Info:
B1060, Series: SpaceX Starlink
Launch Window opened:
2022-01-19T00:04Z
Weather
Conditions: Clear
Temperature: 12.22 °C (54 °F)
Wind speed: 4.36 kph (2.71 mph)
Weather report from 19 Jan 12:00 am UTC