Uchinoura Space Center is a rocket launch facility located in Kimotsuki, Kagoshima, near the southern tip of Japan. It is operated by the JAXA Space Agency.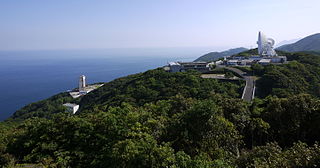 Uchinoura Space Center
Uchinoura is designed for suborbital and orbital launches, and is the launch site for the Epsilon rocket.
The site is also home to antennas used for communicating with interplanetary space probes.
History
Japan has been developing rockets and operating launch facilities since the 1950s. Noshiro Rocket Testing Center was established in 1962 in the city of Noshiro, Akita Prefecture. This facility was capable of launching small sounding rockets but was not a suitable site for larger orbital vehicles. A new site was chosen in Uchinoura (now part of Kimotsuki) in the Kagoshima Prefecture, with a better launch path over the Pacific ocean. The new facility was named Kagoshima Space Center (KSC) and opened in February 1962. Following the establishment of the Japan Aerospace Exploration Agency in 2003, the facility was renamed Uchinoura Space Center.
Stats
Name: Uchinoura Space Center (内之浦宇宙空間観測所, Uchinoura Uchū Kūkan Kansokusho)
Location: Kimotsuki, Kagoshima, Japan
Coordinates: 31°15′07″N 131°04′55″E
Established: February 1962, (as Kagoshima Space Center)
Related Feeds