Epsilon is a Japanese rocket designed to launch satellites. It is operated by the Japan Aerospace Exploration Agency (JAXA) and launches from Uchinoura Space Center.
Epsilon is a solid-fuel rocket capable of placing payloads up to 590 kg in Sun-synchronous orbit. It comes in various configurations and can have three or four stages.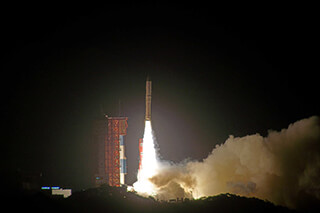 Epsilon launching on 2018-02-18
History
Epsilon was designed as a replacement for the M-V launch vehicle which was part of the Mu rocket family, retired in 2006. Development of the Epsilon began in 2007, with the first launch on 14th September 2013.
Stats
Name: Epsilon
Height: 26 m
Diameter: 2.5 m
Stages: 3–4
First launch: 2013-09-14
Related Feeds