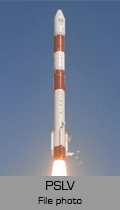 Scheduled Launch Time:
Nov 26 6:26 am UTC
Summary:
An ISRO PSLV rocket was set to launch the Oceansat-3 (EOS-6) mission on Saturday, November 26, 2022 at 6:26 AM (UTC).
Oceansat-3 is part of a series of earth observation satellites operated by the Indian Space Research Organisation (ISRO).
Watch the launch video(s) below.
Details & More Info
Mission / Payload:
Oceansat-3 (EOS-6)
Tags / Other Info:
Earth Observation Satellite
Launchpad:
FLP, Satish Dhawan Space Centre, India
Launch Window opens:
2022-11-26T06:26Z
Weather
Conditions: Humid and Partly Cloudy
Temperature: 28.31 °C (82.96 °F)
Wind speed: 6.36 kph (3.95 mph)
Weather report from 26 Nov 12:00 am UTC