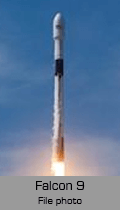 Scheduled Launch Time:
Feb 02 8:27 pm UTC

This launch was a success.
Summary:
A SpaceX Falcon 9 rocket launched the NROL-87 mission on Wednesday, February 2, 2022 at 8:27 PM (UTC).
NRO / NROL satellites are operated by the US National Reconnaissance Office. These missions are generally classified and we do not expect to know exactly what's onboard.
Watch the launch video(s) below.
Details & More Info
Mission / Payload:
NROL-87
Tags / Other Info:
B1071, Classified Payload
Launch Window opened:
2022-02-02T20:18Z
Weather
Conditions: Clear
Temperature: 14.29 °C (57.72 °F)
Wind speed: 17.8 kph (11.06 mph)
Weather report from 2 Feb 12:00 pm UTC