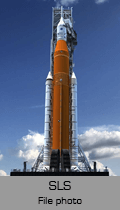 Scheduled Launch Time:
Aug 29 12:33 pm UTC
Summary:
A NASA SLS rocket will launch the Artemis 1 (EM-1) mission on Monday, August 29, 2022 at 12:33 PM (UTC).
This uncrewed mission is the first full test of the system that will take NASA astronauts to the Moon. It includes the Orion spacecraft atop the Space Launch System (SLS) rocket. It will fly past the Moon on a mission that could take from four to six weeks.
Live Launch Video
If a live video stream is available for this launch, it will be shown here*.
Details & More Info
Mission / Payload:
Artemis 1 (EM-1)
Tags / Other Info:
Lunar Orbit, Series: NASA Artemis, Test Flight, Uncrewed, Vehicle Debut
Launch Window opens:
2022-08-29T12:33Z
Launch Window closes:
2022-08-29T14:33Z
Weather
Conditions: Humid and Partly Cloudy
Temperature: 25.37 °C (77.67 °F)
Wind speed: 7.92 kph (4.92 mph)
Weather updated: 12 Aug 12:00 am UTC
* Video coverage varies between launch providers — sometimes we get several hours of lead-up video with commentary, sometimes it's just a few minutes with minimal audio. This page will be updated if/when the provider makes the video stream available.