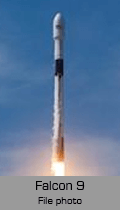 Scheduled Launch Time:
Jan 31 11:11 pm UTC

This launch was a success.
Summary:
A SpaceX Falcon 9 rocket launched the CSG-2 mission on Monday, January 31, 2022 at 11:11 PM (UTC).
The full name of this payload is "COSMO-SkyMed Second Generation 2". It is an Italian Space Agency satellite designed for surveillance and emergency management, placed in a sun-synchronous orbit.
Details & More Info
Launch Window opened:
2022-01-31T23:11Z
Weather
Conditions: Clear
Temperature: 14.64 °C (58.36 °F)
Wind speed: 5.39 kph (3.35 mph)
Weather report from 1 Feb 12:00 am UTC