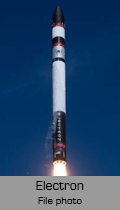 Scheduled Launch Time:
Jun 28 9:55 am UTC

This launch was a success.
Summary:
A Rocket Lab Electron rocket launched the CAPSTONE mission on Tuesday, June 28, 2022 at 9:55 AM (UTC).
CAPSTONE stands for Cislunar Autonomous Positioning System Technology Operations and Navigation Experiment. It is a NASA CubeSat being placed in lunar orbit in support of the Artemis program.
Watch the launch video(s) below.
Details & More Info
Mission / Payload:
CAPSTONE
Tags / Other Info:
Lunar Orbit
Launch Window opened:
2022-06-28T09:55Z
Weather
Conditions: Partly Cloudy
Temperature: 12.22 °C (54 °F)
Wind speed: 10.07 kph (6.26 mph)
Weather report from 28 Jun 12:00 am UTC