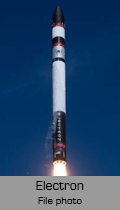 Scheduled Launch Time:
May 31
Summary:
A Rocket Lab Electron rocket will launch the CAPSTONE mission. The launch date is currently targeted for May 31, 2022 (UTC).
CAPSTONE stands for Cislunar Autonomous Positioning System Technology Operations and Navigation Experiment. It is a NASA CubeSat being placed in lunar orbit in support of the Artemis program.
Live Launch Video
If a live video stream is available for this launch, it will be shown here*.
Details & More Info
Mission / Payload:
CAPSTONE
Tags / Other Info:
Lunar Orbit
Launch Window opens:
Unknown
* Video coverage varies between launch providers — sometimes we get several hours of lead-up video with commentary, sometimes it's just a few minutes with minimal audio. This page will be updated if/when the provider makes the video stream available.