Suomi National Polar-orbiting Partnership (Suomi-NPP) is the name of a satellite orbiting 824 kilometers (512 miles) above the Earth. It is in a polar orbit, completing one orbit every 101 minutes. This gives the satellite a progressive view of the entire planet Earth roughly once every 27 hours.
Suomi-NPP is an Earth science mission. Its goal is to collect images and data related to the state of our planet. This includes "visible-light" photos as well as as thermal infrared images. Data is also collected on temperature and humidity of the atmosphere, and ozone distribution.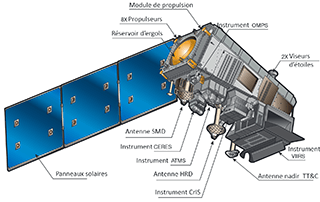 Diagram of the Suomi-NPP satellite
Orbit details
Sun-synchronous near-circular polar orbit (of the primary NPP) Altitude = 824 km, inclination =98.74º, period = 101 minutes, LTDN (Local Time on Descending Node) at 10:30 hours. Repeat cycle: 16 days (quasi 8-day).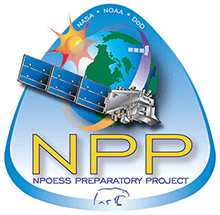 NPP Logo
External Links