Peter Beck is the founder of Rocket Lab, a private aerospace company with bases in New Zealand and the USA.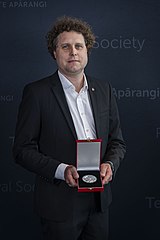 Peter Beck at the 2020 Royal Society of New Zealand awards
Peter was born and raised in Invercargill, a city in southern New Zealand. He had an interest in engineering and rockets since childhood, and at age 17 he took on a toolmaking apprenticeship at appliance manufacturer Fisher & Paykel. While there, he learned about and experimented with rockets in his spare time. He went to on to work at Industrial Research Limited, a Crown Research Institute of New Zealand, before establishing Rocket Lab in 2006.
Stats
Born: 1976/1977 in Invercargill, New Zealand.
Related Feeds