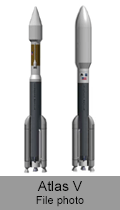 Scheduled Launch Time:
Jan 21 7:00 pm UTC

This launch was a success.
Summary:
A United Launch Alliance (ULA) Atlas V rocket launched the USSF-8 mission on Friday, January 21, 2022 at 7:00 PM (UTC).
This mission launched two identical Geosynchronous Space Situational Awareness Program (GSSAP) satellites, called GSSAP-5 and GSSAP-6. These will be placed in geosynchronous orbits approximately 36,000 km (22,300 miles) above Earth's equator.
Watch the launch video(s) below.
Details & More Info
Payload:
GSSAP 5, GSSAP 6
Tags / Other Info:
Classified Payload
Launch Window opened:
2022-01-21T18:15Z
Launch Window closed:
2022-01-21T21:15Z
Weather
Conditions: Overcast
Temperature: 22.46 °C (72.43 °F)
Wind speed: 11.68 kph (7.26 mph)
Weather report from 21 Jan 12:00 pm UTC