The Xichang Satellite Launch Center (XSLC) is a spaceport located in Liangshan Yi Autonomous Prefecture in Sichuan, China. The facility launches a range of missions including scientific, civilian and military payloads.
Notable Launches and Incidents
15 February 1996: A Long March 3B rocket failed shortly after launch, crashing into a nearby village. At least six people were killed and dozens injured. The actual death toll may have been much higher.[1, 2]
11 January 2007: An anti-satellite missile test was conducted that created an enormous debris field in Earth orbit. It was second largest contributor of space debris in history (after Project West Ford), with an estimated 150,000 debris particles left in orbit. The test attracted international condemnation.
October 24, 2007: Chang'e 1, a robotic lunar orbiter, was launched. This was the beginning of China's lunar exploration program.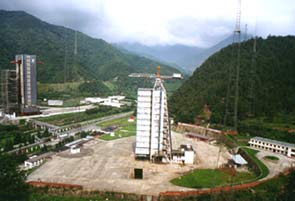 Xichang Satellite Launch Center
Stats
Name: Xichang Satellite Launch Center (XSLC), AKA Xichang Space Center
Location: Zeyuan Town (泽远镇), 64 kilometers (40 mi) northwest of Xichang, Liangshan Yi Autonomous Prefecture in Sichuan.
First operations: 1984
Related Feeds