LauncherOne is a small rocket designed to launch from the underside of an airplane and carry payloads of up to 300 kg (660 lb) into Earth or Sun-synchronous orbit. The carrier aircraft is a modified Boeing 747-400 named Cosmic Girl.
LauncherOne is developed and operated by Virgin Orbit, a subsidiary of Richard Branson's Virgin Galactic.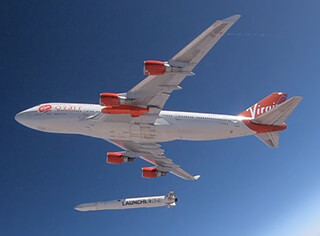 History
2007: Concept developed by Virgin Galactic.
2015: Established a research, development, and manufacturing center for LauncherOne at Long Beach Airport, CA, USA..
2017: Two new companies created to continue LauncherOne development and deployment:
Virgin Orbit (the main development company, commercial flights).
Vox Space (for military and high-security contracts).
2018: First test flights of the carrier aircraft Cosmic Girl.
2020: First launch (failure).
2021: First successful demonstration launch.
Stats
Type: Air-launch rocket
Stages: 2 (possible third stage at a later date)
Manufacturer: Virgin Orbit
Height: 21.3 m (70 ft)
Weight: 30 tons
Payload to 230km orbit: 500 kg (660 lb)
Payload to 500km orbit: 300 kg (1,000 lb)
Similar to: Vector-H, Falcon 1, Pegasus, Electron
Launches from: The carrier aircraft can launch from any airport that supports Boeing 747s, subject to local regulations. The rocket is typically released from the aircraft over the ocean.
Related Feeds