The Subaru Telescope is an 8.2-meter optical/infrared telescope located at the Mauna Kea Observatory in Hawaii. It is operated by the National Astronomical Observatory of Japan.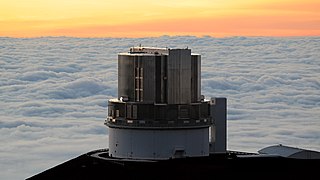 Subaru Telescope
When the telescope was completed in 1998, it had the largest single primary mirror in the world.
The large mirror and field of view make Subaru well suited to deep-sky surveys. It has been used for projects such as the hunt for Planet Nine.
Stats
Name: Subaru Telescope (すばる望遠鏡, Subaru Bōenkyō). Named after the star cluster Pleiades.
Location: Hawaii County, Hawaii
Coordinates: 19°49′32″N 155°28′34″W
Altitude: 4,139 m (13,579 ft)
Construction: 1991 - 1998
Wavelength: Optical/Infrared
Telescope type: Ritchey-Chretien
Focal length f/1.83 (15.000 m)
Mount: Altitude/Azimuth
Related Feeds