Starship is a "super-heavy-lift" launch vehicle designed and manufactured by SpaceX in the USA. It is a fully reusable, two-stage-to-orbit rocket system. The first stage is a booster called "Super Heavy", the second stage is the main Starship vehicle.
Starship is currently under development, with the fist orbital flight planned for early 2022.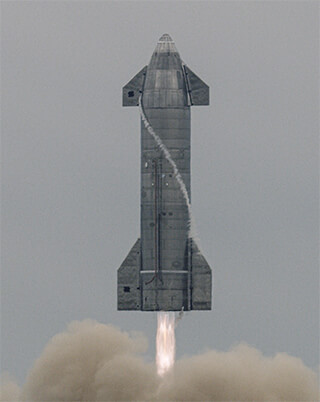 Starship SN15
Future Plans
In 2023, SpaceX plans to fly a civilian crew including Japanese entrepreneur Yusaku Maezawa on a fly-by mission of the Moon. The total journey will be about a week.
A long-term goal for SpaceX is to transport humans and supplies to Mars. Starship would enter the Martian atmosphere at 7.5 km/sec and decelerate aerodynamically. There will be some ablation to the heat shield but the vehicle should still be reusable.
In theory, Starship could travel to many distant places in our Solar System.
Stats
Height: 120 m ( 394 ft)
Diameter: 9 m (30 ft)
Stages: 2 (Starship, Super Heavy booster)
Engines: Raptor
Propellant: Liquid oxygen, Liquid methane
Reusable: Fully
Payload to LEO: kilograms ( lb)
Payload to GTO: 100+ t (220 klb)
Related Feeds