Blue Origin is a privately-owned aerospace company based in the USA. If offers short sub-orbital space flights to commercial customers. In future, the company plans to offer full orbital flights.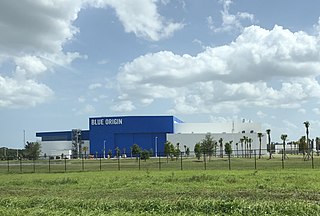 Production facilities near the Kennedy Space Center, Florida
The company has two launch vehicles: The New Shepard (named after Alan Shepard) and New Glenn (named after John Glenn).
New Shepard is a sub-orbital vehicle. Its first uncrewed test launch was April 29, 2015. After a total of seven test flights, the first crewed flight took place on July 20, 2021 with four passengers[1].
New Glenn is currently under development and is expected to launch in 2022.
Stats
Name: Blue Origin, LLC
Founder: Jeff Bezos
Established: 8 September 2000
Headquarters: Kent, Washington, USA
Trivia: The world record for the oldest person to fly into space is held by Willian Shatner, who flew on a Blue Origin flight in October 2021.
Related Feeds
Footnotes & References
1. The passengers were Jeff Bezos, his brother Mark Bezos, Wally Funk, and Oliver Daemen.