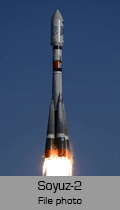 Launch Date / Time:
Dec 08
Summary:
A Roscosmos Soyuz-2 rocket will launch the Soyuz MS-20 / SpaceAdventures mission. The launch date is currently targeted for December 08, 2021 (UTC).
Mission/Payload:
Soyuz MS-20 / SpaceAdventures
Tags / Other Info:
Crewed, ISS Expedition, Tourism
Launch Window opens:
Unknown
Launch Window closes:
Unknown
Live Launch Video
If we are able to access a live video stream for this launch, it will be shown above. Launch coverage varies between providers — sometimes we get several hours of lead-up video with commentary, sometimes it's just a few minutes with minimal audio. Please check back for updates.